Bloomfield is an interesting town in the New York's Finger Lakes region. It is actually two towns, East and West Bloomfield, and East Bloomfield contains the Village of Bloomfield. The two towns combined have a population of around 6,000 people. The land was part of the Phelps and Gorham Purchase in 1788, but the name is said to have originated during the Sullivan Expedition of 1779, as the soldiers in the expedition were impressed with the fertile ground and flowers that grew there. Despite its small size, Bloomfield has quite a claim to fame. William Ketchum (mayor of Buffalo from 1844 to 1845) and abolitionist / suffragist Paulina Kellogg Wright Davis were born in Bloomfield. The founder of the City of Rochester, Nathaniel Rochester, and its first mayor, Jonathan Child, lived parts of their lives in Bloomfield. Bloomfield is also home to the Crossman Corporation, a manufacturer of BB and air guns. Wheat, hops, and potatoes are grown in Bloomfield. The Northern Spy apple was developed there. It has a historic district, museums, breweries, and antiques stores. There are parks and even a golf course: the Parkview Fairways Golf Course.
Bloomfield NY Roof Replacement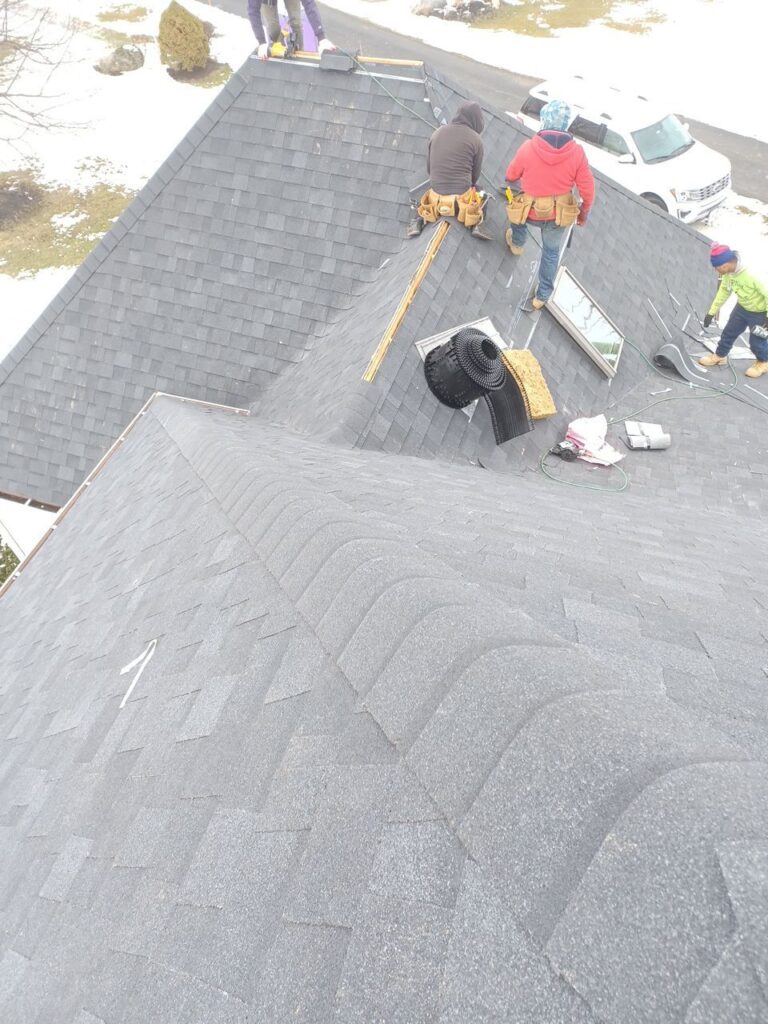 Trusted Roofing Team in Bloomfield NY
As far as buildings and developments go, Bloomfield contains many historic buildings such as the John and Mary Dickson House (an 1830s federal-style building), the West Bloomfield Congregational Church of Christ (established in 1799), the East Bloomfield Historical Society, the United Methodist Church (built in 1832), and others. A walking tour that is available through the historic part of the Village of Bloomfield goes over more than 50 buildings. And being a rural town, there are homes and farms abound. From the slate and concrete of older buildings to more modern shingle and metal roofs, or even stone-coated steel which combines the durability of metal with the visual appeal of a shingle roof, Roofing Rochester NY is ready to provide any and all of the roofing services necessary for any building within Bloomfield NY.
Metal Roofing in Bloomfield NY
Metal Roofing for an Energy-Efficient Home or Business in Bloomfield NY
New metal roofing installation is definitely one of the most efficient ways of improving the roofing of any Bloomfield NY business or home. Metal roofing has strong insulation qualities and visual curb appeal; each adding property value increases that oftentimes result from these enhancements. Many homeowners and many business owners have elected to have Roofing Rochester NY install a metal roof on their commercial and residential structures.
Bloomfield NY Solar Roofing
Enlighten Your Bloomfield NY Home with the Power of Solar Roofing
New solar roofing supplies power and protection; it's a no-brainer. Decreasing your home or business carbon footprint while increasing your energy efficiency is the perfect way to enhance your residence or commercial building in many more ways than one while replacing its roofing system. See why so many Bloomfield NY business and home owners are trusting Roofing Rochester NY with their solar roofing installations.
Commercial Roofing Bloomfield NY
The Commercial Roofing Experts in Bloomfield NY
When potential buyers assess commercial properties, usually the first questions are about the state of the roof. The harsh weather of Bloomfield NY are especially taxing on commercial structures that oftentimes lack tree cover. You simply can't pull any punches or take shortcuts when your commercial building needs a new commercial roof. Roofing Rochester NY is happy to discuss all of your options at any time.