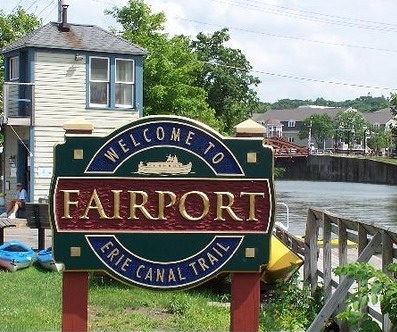 The town of Fairport was first settled by European Americans in the two flat areas of Perinton Center and the township of Egypt. The first settlers in Perinton were Glover Perrin, his wife Johanna, and his brother Jesse. Originally the village of Fairport was a swampy area within the Town of Perinton until the 1820s. At that point it was drained by construction of the new Erie Canal. With the opening of the Canal, what was then known as Perrinsville quickly became a busy canal port with a reputation for being a "fair port" (hence the name). The area's reputation as an industry and transportation center came with the construction of railroads in 1853. This now booming section of what was previously known as Perrinsville was incorporated as a village on April 30, 1867 and eventually became the center of activity for the township of Perinton. Through out the years, Fairport has become known for its canal life with some local favorites and community festivals like the Fairport Canal Days and such places as the Fairport Brewing Company and Ice Cream Factory of Fairport. By specializing in historical and modern construction, Roofing Rochester has become the premier roofing company in the village.
Fairport NY Roof Replacement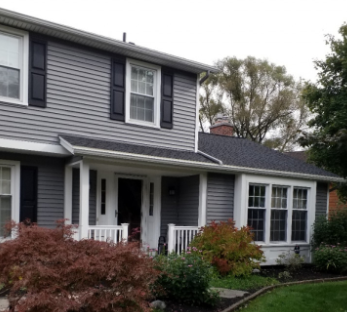 Fairport NY's Most Trusted Roofing Installers
As the village of Fairport, NY continues to grow and modernize, Roofing Rochester NY will continue to grow with it by using the most current and efficient products available. Whether its architectural, 3 tab, or historical slate shingles — Roofing Rochester NY prides ourselves on the ability to leave our home owners happy and satisfied. The reasons we love working in Fairport, NY are countless, but the privilege of working on roofs such as the historical sites of the First Baptist Church right in the center of the village is among one of the top!
Metal Roofing in Fairport NY
Metal Roofing for an Energy-Efficient Home or Business in Fairport NY
New metal roofing installation is definitely one of the most efficient ways of improving the roofing of any Fairport NY business or home. Metal roofing has strong insulation qualities and visual curb appeal; each adding property value increases that oftentimes result from these enhancements. Many homeowners and many business owners have elected to have Roofing Rochester NY install a metal roof on their commercial and residential structures.
Solar in Fairport NY
Enlighten Your Fairport NY Home with the Power of Solar
New solar roofing supplies power and protection; it's a no-brainer. Decreasing your home or business carbon footprint while increasing your energy efficiency is the perfect way to enhance your residence or commercial building in many more ways than one while replacing its roofing system. See why so many Fairport NY business and home owners are trusting Roofing Rochester NY with their solar roofing installations.
Commercial Roofing in Fairport NY
The Commercial Roofing Experts in Fairport NY
When potential buyers assess commercial properties, usually the first questions are about the state of the roof. The harsh weather of Fairport NY are especially taxing on commercial structures that oftentimes lack tree cover. You simply can't pull any punches or take shortcuts when your commercial building needs a new commercial roof. Roofing Rochester NY is happy to discuss all of your options at any time.